New in factory case Wireworld Luna 8 Speaker Cable a Pair for two Speakers Terminated.
Available in optional length and Bi-Wire 2:4 Configuration
Wireworld Luna 8 single-wire – WireWorld Uni-Term 24K Gold-Plated Bananas
The Wireworld Luna 8  speaker cable is the latest generation budget speaker cable from Wireworld. The Luna 8 speaker cable has twice as many strand groups as Luna 7, 16 strand groups as opposed to 8 for the Luna 7.  It also benefits from third-generation insulation technology designed to maximise signal quality. As a result, the Luna 8 speaker cable sounds cleaner and more dynamic.
Luna's small size and dynamic sound has made it Wireworld's most popular speaker cable for custom installations and budget music systems. For Series 8, we've doubled the number of strand groups for improved clarity and punch.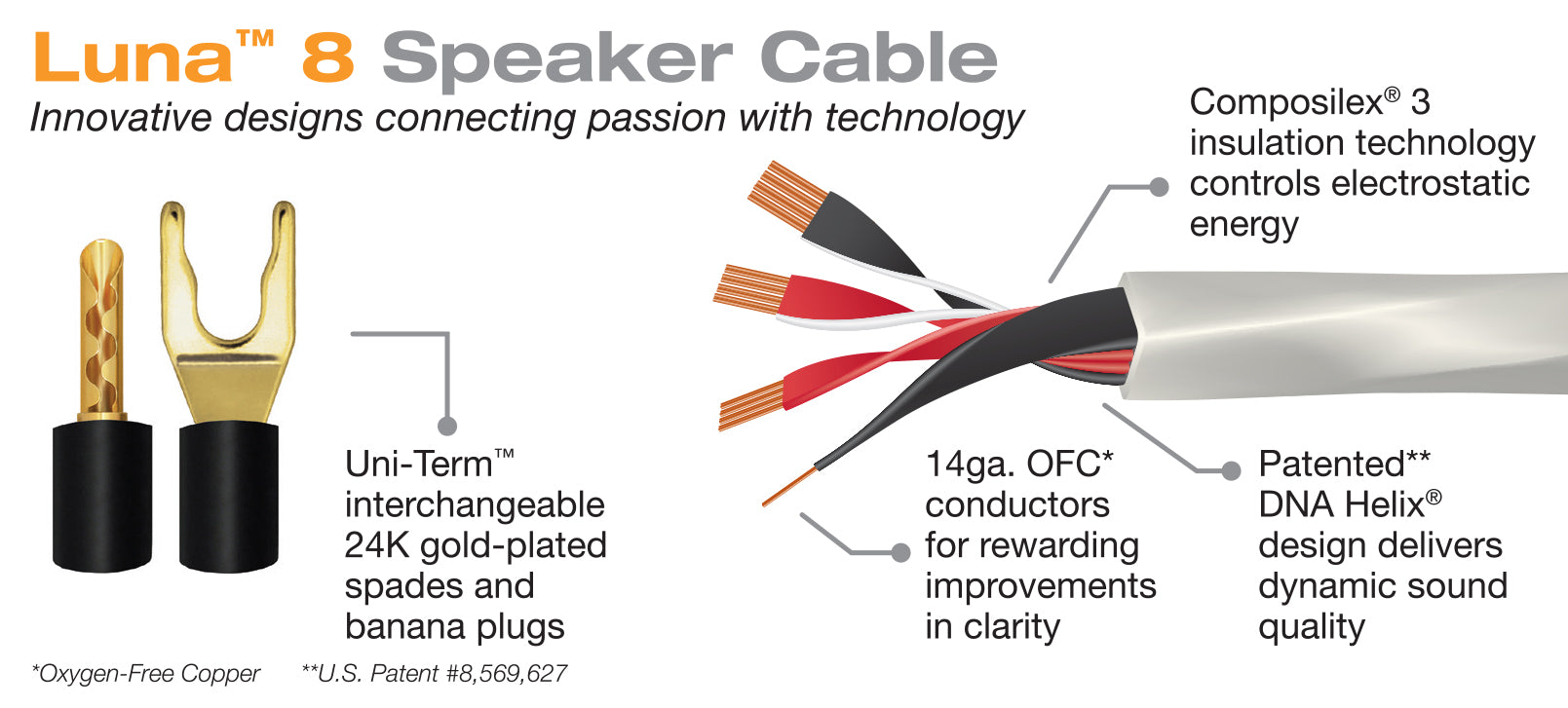 Series 8 Upgrades
Series 8 speaker cables have more strand groups than Series 7, which strengthens the electromagnetic field that moves the signal through the cable. These upgrades improve clarity, dynamics, soundstaging and image focus.
SPECIFICATIONS:
Design: Quad DNA Helix

Signal Conductors: 4 (16 strand groups)

Gauge: 14AWG / 2 sq. mm

Conductor Material: OFC

Insulation: Composilex 3

Plug Contacts: Silver + Gold plated Uni-Term

Outer Diameter – 8mm

Lifetime Warranty
WHAT THIS CABLE IS USED FOR?
CONNECT YOUR:

• Speakers
 TO YOUR:
• Amplifier
• Receiver
 Lifetime Warranty
*Available in 3m, 2.5m and 2m lenghts or custom lengths
*We send all item/s within 1-2 days*
We are an authorized Wireworld Cables dealership, so you can be assured of new and genuine products, covered by a full manufacturers warranty.
About Wireworld Cable
For over 30 years Wireworld Cable Technology has been dedicated to the development of true transparency and dynamic expression in premium audio and video cables.
Utilizing multiple patented technologies, ultra premium grade materials, and the truest testing methodology, we have created a product and a brand we are proud of, and we think its the best in the wire world. A bold claim, but reviewers around the world will concur, if you want a cable that performs as if there is no cable in your system at all, then Wireworld is the cable for you.
Please have a look at our other items we have all products Wireworld available, Any questions please contact with us. Thanks for looking.