New in factory case Wireworld Helicon 16 OFC Speaker Cable a Pair for two Speakers Terminated.
Helicon OCC Also Available.
Wireworld Helicon 16 OFC single-wire – WireWorld Uni-Term 24K Gold-Plated Bananas
Enjoy the performance advantages of a DNA HELIX design in this amazingly light, flexible and open Helicon cable. Originally designed for internal speaker wiring and DIY applications, this cable sounded so great we decided it would make an excellent external speaker wire as well. OFC conductors, easy to strip and terminate.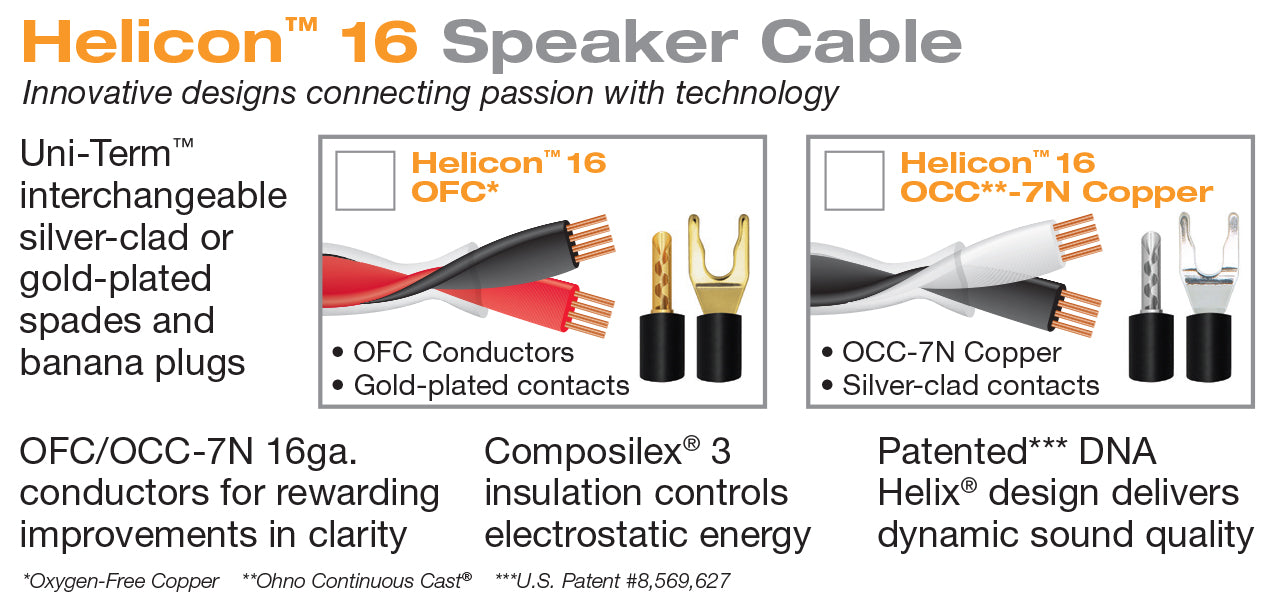 About The WireWorld Helicon 16 Speaker Cable
The WireWorld Helicon 16 Speaker Cable with OFC conductors shows it's possible to get a smooth, natural, dynamic sounding cable at a very reasonable price. Available by the metre (read Our Take below) this cable will let you clearly hear every detail on your favourite recordings.
The Helicon 16 speaker cable allows you to enjoy the latest WireWorld performance advantages in an amazingly light, flexible and open cable. Originally designed for internal speaker wiring and DIY applications, this cable sounded so great WireWorld decided it would make an excellent external wire as well.
Dual DNA Helix Construction: The goal of Wireworld's patented DNA Helix cable technology is to enable listeners to experience their music without the losses and colourations normally caused by cables. Polygraph testing shows that the primary sonic effects of cables are caused by electromagnetic effects. The effect called eddy current resistance, which increases as strands are twisted, is especially problematic because it masks quiet musical details. To overcome those issues, the strands in the DNA Helix designs are completely parallel, providing the most direct signal path for the lowest eddy current resistance. These parallel strands run within layered flat conductors that channel electromagnetic energy and reject interference. Furthermore, in the analogue cables, the spacing between the positive and negative conductors is fine-tuned by ear to match the pure sound of a direct connection. The effect of that tuning is like focusing a lens, with the beautiful textures and dynamics of live music coming into vivid 3-D focus when the spacing is just right.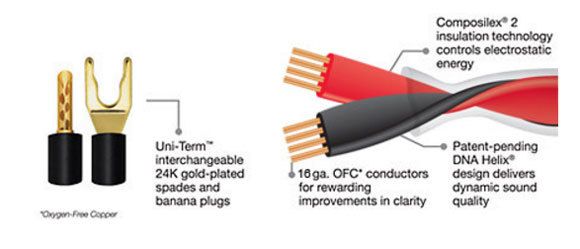 Premium High-Quality Metals: A common misconception is that the gauge of a speaker wire is all that matters. Heavier is better, right? Wrong. Gauge can make a difference, but testing has taught us that cable design and material quality can have an even greater impact on the sound we hear. That is why WireWorld focuses on developing the most efficient designs and producing them with the best quality materials available in each price range. For example, the Helicon 16 speaker cable features high quality oxygen-free copper conductors for the best performance for the money. If you're buying the factory terminated version, you also get high quality gold plated oxygen-free copper banana plugs for the most secure connection to your speakers and amplifier.
SPECIFICATIONS:
Design: Dual DNA Helix Construction Speaker Cable (not for in-wall use)

Signal Conductors: 2 Conductors (16 strands)   

Conductor Material: Oxygen-Free Copper

Gauge: 16AWG / 1.25 sq. mm

Insulation: Composilex 3

PLUG CONTACTS: 24 gold-plated Uni-Term banana plugs

Manufacturer's Warranty: 5 Years
WHAT THIS CABLE IS USED FOR?
CONNECT YOUR:

• Speakers
 TO YOUR:
• Amplifier
• Receiver
 Lifetime Warranty
*Available in 3m, 2.5m and 2m lenghts or custom lengths
*We send all item/s within 1-2 days*
We are an authorized Wireworld Cables dealership, so you can be assured of new and genuine products, covered by a full manufacturers warranty.
About Wireworld Cable
For over 30 years Wireworld Cable Technology has been dedicated to the development of true transparency and dynamic expression in premium audio and video cables.
Utilizing multiple patented technologies, ultra premium grade materials, and the truest testing methodology, we have created a product and a brand we are proud of, and we think its the best in the wire world. A bold claim, but reviewers around the world will concur, if you want a cable that performs as if there is no cable in your system at all, then Wireworld is the cable for you.
Please have a look at our other items we have all products Wireworld available, Any questions please contact with us. Thanks for looking.