QED REFERENCE XT40i X-TUBE Audio Speaker Cable Terminated 8x Universal (4mm) AIRLOC Banana Plugs at the both ends (A Pair for two speakers)
Available in Optional or Custom length.
The cables are high pressure crimped of professional crimping tool QED AIRLOC HIGH PERFORMANCE TERMINATION (for maximum contact surface area) To a high quality 24 gold-plated AIRLOC Banana plugs at the both ends.
All ends finished with colour coded red and black & transparent heat shrink sleeves.
The XT-40i cable listed is a Pair length of Speakers.
AIRLOC a solder-free, airtight perfect fusion between the two metals of cable and plug. This 'cold weld' method allows the cable and plug to offer the optimum signal transfer and therefore, better sound quality. It also reduces contact resistance and ensures perfect long-term performance.
We offer the matching Qed XT40i Bi-Wire Link (Speaker Jumpers Cables).
Please search in Jumper Cables category or please feel free to contact with us.
 XT40i with X-Tube™ Technology
As befits a company rapidly closing in on its fifth decades at the forefront of speaker cable design, QED's brand new XT40i speaker cable builds on the formidable reputation of the XT40 cable it replaces and offers a decisive step up in sound quality.
This pure oxygen-free copper cable uses an evolution of QED's established X-Tube technology to guarantee superb timing and stereo imaging, and adds the brand new and highly innovative Air Gap dielectric to bring unheard-of rhythmic accuracy and musicality to a cable of this modest price. Very low DC resistance adds unrivalled frequency response to XT40i's already potent audio capability. The result is a cable that advances on the class-leading standards set by its predecessor.
We urge you to audition XT40i – we're confident you'll agree it even outperforms alternative cables at many times the price. Prepare to be surprised and delighted.
Air Gap Dielectric
By increasing the separation of the conductors inside the cable, and therefore the amount of air between them, QED has created a low-loss Air Gap dielectric. This technology halves the dissipation and capacitance characteristics of the cable, and results in numerous audible improvements – particularly where timing and rhythmic accuracy are concerned. Despite this increased separation, though, XT40i retains the sort of cross-sectional area that makes it ideal for long cable runs.



Large Cross-Sectional Area
The 4mm2 cross sectional area means XT40 exhibits very low resistance, allowing amplifiers to exert outstanding control over the speakers they are driving. In addition, its large cross sectional area makes it suitable for long cable runs.
Specification:
• Length: Custom
• Wire Gauge: 12 AWG
• Outside diameter: 6 x 14 mm
• Conductor area: 4 mm²
• Dielectric properties: Air Gap (εr = 2.4)
• Conductor chemistry: 99.999% oxygen-free copper
• Dielectric properties: Air Gap
• Loop resistance: 8.0 mΩ/m
• Parallel capacitance: 35 pF/m
• Dissipation factor @ 10kHz: 0.0295
• Self-inductance: 0.57 μH/m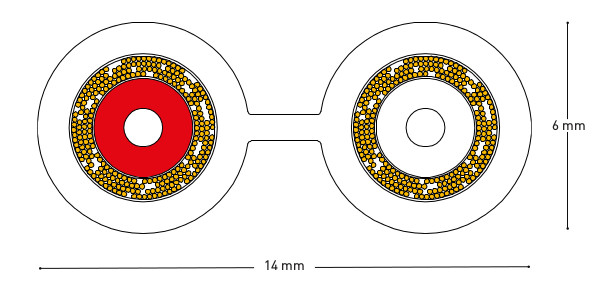 About QED Cables:
British audio specialists QED has been designing and engineering superior AV cables for nearly five decades and is considered the original cable brand, with its QED 79 strand cable, released in 1976, widely recognised as the world's first "specialist" speaker cable – a product that demonstrated how cables could have a tangible impact on audio performance. Since then, the company has used extensive scientific research and computer-aided design techniques to ensure its products remain at the very cutting edge of technology. That rich heritage and constant drive for innovation underpins QED's latest products. All cables deliver an enhanced sonic performance without compromising on their competitive price points.
Also available:
• Termination speaker cables with NEW QED SUPERIOR AIRLOC METAL FORTE High Performance 4mm Spring-Loaded Banana Plugs.
• The QED Bi-Wire Link (Speaker Jumpers Cables)
• The QED Analogue Interconnects
• The QED other Speaker Cables
Please search in our Shop.
*100% High quality*
*fully tested*
*guarantee of quality*
*We send all item/s within 1-2 days*
If you would like a different combination of spade connectors and banana plugs, or different cable lengths, please feel free to contact. 
Please have a look at our other items, any questions please contact with me.Thanks for looking.