New in box a Pair QED Performance audio 40i Analogue Interconnect 1m 2RCA-2RCA L/R-Channel (Stereo Pair).
QED Audio 40i 
Performance Audio 40i with QED Solid Complementary Conductor™ Technology and Anamate™ RCA plugs
Performance Audio 40i builds on the strengths of the original Performance Audio 40, and delivers an even more enjoyable and convincing sound – without affecting its prodigious value for money. Using the principles laid down in its industry-defining Genesis Report, as well as some startlingly original technology (including the ground-breaking Solid Complementary Conductors and Anamate plugs), QED has created an interconnect that puts as much distance between itself and its nominal competition as the original Performance Audio 40 did over six years ago.
AWARDS AND REVIEWS
Solid Complementary Conductor technology
Beneath the PVC jacket, braided foil shield, ferrite jacket and foamed polyethylene dielectric are two solid, electrically isolated and oxygen-free copper conductors of different diameters. Using two wholly separate conductors (one copper, one silver-plated) to carry the audio signal provides the most complete, least compromised route for audio information to travel. The resulting sound enjoys greater scale and three-dimensionality than has been previously achievable from an interconnect of this price, and helps QED maintain both its reputation as an innovator and a class-leader.



Anamate RCA plugs
The 'Anamate' arrangement of the plugs, in which the high purity copper conductors are gold-plated, gives Performance Audio 40i both the low-contact resistance needed to produce thrilling sonic results and also far greater longevity than unplated copper alone. By using high purity copper conductors for the pin section and small contact areas for the return ring, the resistance in the signal path is lowered. It also prevents eddy currents forming in the plug body, which in turn improves signal transmission.
Ferrite jacket
The ferrite insulation delivers measurable improvements to both the amount of high-frequency signal noise rejected by the cable and the amount of relevant signal information lost. The improved accuracy of high-frequency impulse transmission impacts positively on timing, and on dynamics both broad and low-level.
Just listen
Performance 40i has numerous technological highlights, and we're convinced it represents amazing value for money. The easiest way for you to understand what we mean is to hear it in action for yourself – we're confident you'll prefer it to any alternative cable at anything like the price.

WHAT THIS CABLE IS USED FOR
CONNECT YOUR:
• CD player
• DAC
• Turntable
• DVD player
• Tuner
• Audio Component
TO YOUR:
• Amplifier
• Receiver
SPECIFICATIONS:
• Conductor Type                                        Solid Complementary
• Metallurgy                                                 99.999% Oxygen-Free Copper and Silver-Plated Oxygen-Free Copper
• Conductor Size                                         0.64 mm & 0.4 mm
• Combined Conductor Cross-Section        0.45 mm2
• Dielectric Foamed Polyethylene
• Ferrite Jacket                                            10% Zn/Mn
• Capacitance                                             57 pF/m
• Loop Resistance                                      0.05 Ω/m
• Dissipation Factor (@ 10Hz)                    0.0025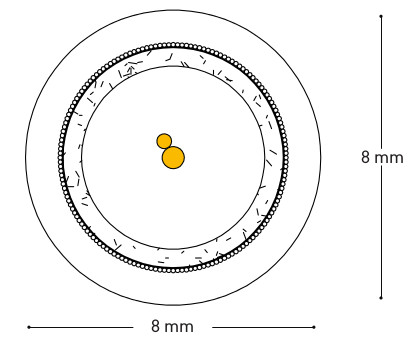 QED Lifetime Guarantee
*Available in 0,6m, 1m, 2m, 3m lenghts*
*I send all item/s within 1-2 days*
Please have a look at our other items, Any questions please contact with us directly.Thanks for looking.