QED Genesis Silver Spiral Bi-Wire Speaker Cable Terminated 1.5m Pair (With QED Airloc Banana Plugs)
2 x 1.5m QED GENESIS Signature Silver Spiral Bi-Wire Speaker cable Terminated- 16x (4mm) QED AIRLOC Metal Forte Banana Plugs at the both side.
*****HIGH PERFORMANCE TERMINATION, New QED AIRLOC FORTE pin section with PREMIUM gold plating*****
The Qed Genesis Signature Silver Spiral Bi-Wire cable listed is a Pair length of Speakers.
Factory Terminated with 16x-QED AIRLOC Metal Forte banana plugs (Or QED spade connectors terminals on request).
AIRLOC a solder-free, airtight perfect fusion between the two metals of cable and plug. This 'cold weld' method allows the cable and plug to offer the optimum signal transfer and therefore, better sound quality. It also reduces contact resistance and ensures perfect long-term performance.

The Genesis Bi-Wire Link (Speaker Jumpers Cables) also available.
• QED GENESIS SIGNATURE SILVER SPIRAL Speaker Cable isn't just another speaker cable, it is a high performance audio component!

• QED Genesis Silver Spiral, QED's flagship speaker cable, offers outstanding sonic performance regardless of price. This award winning cable is the result of 40 years' scientific research and development.

• QED Genesis Silver Spiral speaker cable gives a very open and full sound with reference levels of performance and is a match for even   the most esoteric audio systems. Designed with unique triple concentric spiral geometry, Genesis cable offers incredibly low     resistance, capacitance and inductance.
As a result, the cable has a very high level of performance with reference transparency and retrieval of detail. Nine bunches of silver plated 99.999% oxygen free copper conductors offer up a massive 5.5mm squared conductor cross-sectional area. This helps give Genesis Silver Spiral cable effortless dynamic reach and a powerful, sustained bass response. With both power and grace to spare, QED Genesis Silver Spiral is the ultimate loudspeaker cable.
Genesis Silver Spiral Bi-Wire. This Bi-Wire version extends the already remarkable performance envelope of standard Genesis Silver Spiral by using Genesis Dual core technology in a compact quad core format.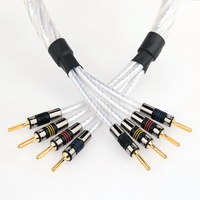 QED Genesis BiWire High performance speaker cable
Unique Triple Concentric Spiral Geometry. 9 bunches of silver plated 99.999% HPCFC conductors wrapped in an ultra low loss LDPE insulation. Super Flex Design enables the cable to be routed where other esoteric cables cannot.
Since XT400 is not available in a bi-wire form, this is our recommended top of the range QED speaker cable if you require bi-wire
Features:
• Massive 22mm conductor cross sectional area of silver plated 99.999% oxygen free copper conductors formed into a spiral lay
• Separately isolated bass & treble conductor bunches
• Quad core construction
• Very low dissipation factor
• Multi-stranded multi-conductor geometry (9×19/0.2mm conductors)
• Concentric screen technology
• Unique spiral geometry
• Compact high performance design
• Stunning translucent silver finish
• Super flex design enables the cable to be routed
• The ultimate cable for bi-wire equipped high end Hi-Fi and Home Cinema systems
• Size: 19.6mm dia
Also Available:
• Termination QED speaker cables with NEW QED SUPERIOR AIRLOC METAL FORTE or PLASTIC FORTE High Performance 4mm Plugs
• The QED Bi-Wire Link (Speaker Jumpers Cables)
• The QED Analogue Interconnects
• The QED other Speaker Cables
*100% High quality*
*fully tested*
*guarantee of quality*
*I send all item/s within 1-2 days*
If you would like a different combination of QED spade connectors and banana plugs, or different cable lengths, please ask. Please have a look at our other items, Any questions please contact with me.Thanks for looking.