Brand New in Factory Package (Factory Round Case) Chord Company Signature XL AUDIO SPEAKER CABLES (A Pair) Factory Terminated Ohmic Plugs.
SignatureXL speaker cable available in optional length.
SignatureXL speaker cable
SignatureXL is the latest version of one of our longest running (and universally loved) products. The original Signature was our first high-frequency shielded speaker cable (2004) and marked a massive leap in speaker cable performance.
It was also the biggest, stiffest, brightest cable we'd ever made. The conductors were oxygen free copper, the insulation was gas foamed Polyethylene, Shielding was a three layer braid and foil combination, effective to high frequencies and the outer jacket a flexible polyethylene. It was just flexible enough to fit into a system. It didn't need a press release or a review, it took off so fast by word of mouth, that for a while there was almost a permanent waiting list.
It remained unchanged for about ten years, until we could apply improved building techniques and materials such as more efficient shielding, silver-plated conductors and PTFE insulation that would produce a more neutral tonal characteristic and a cable better able to carry detail, dynamics and timbre.  This became Signature Reference.
---
Signature Reference, like most of our cables, used PTFE insulation (often referred to as Teflon™) and until the arrival of Taylon®, was our "go to" material. Although expensive, it offered the best performance.
Material technology is constantly developing and improving and alternatives to PTFE are now available. While the high cost of Taylon® prevents us from using this in our Signature range, we were able to find a suitable family of insulation materials known as XLPE (Cross-linked Polyethylene). One version of this material looked particularly interesting and following listening tests, proved to be clearly better than the PTFE in Signature Reference.
Every set of SignatureXL speaker cable is built to order and terminated at our UK factory with ChordOhmic 4mm banana plugs or ChordOhmic spade connectors.  Available in red/black or all black colour combos.
All of these changes combine to produce a major step forward in musical reproduction at this price point – but don't take our word for it. Request a demonstration from your nearest Chord Company retailer and hear for yourself what this cable can bring to your system and favourite recordings.
Chord Company Signature Bi-Wire Link (Speaker Jumpers Cables) also available.
Please Visit Our Shop.
We are an authorised Chord Company Cables dealership, so you can be assured of new and genuine products, covered by a full manufacturers warranty.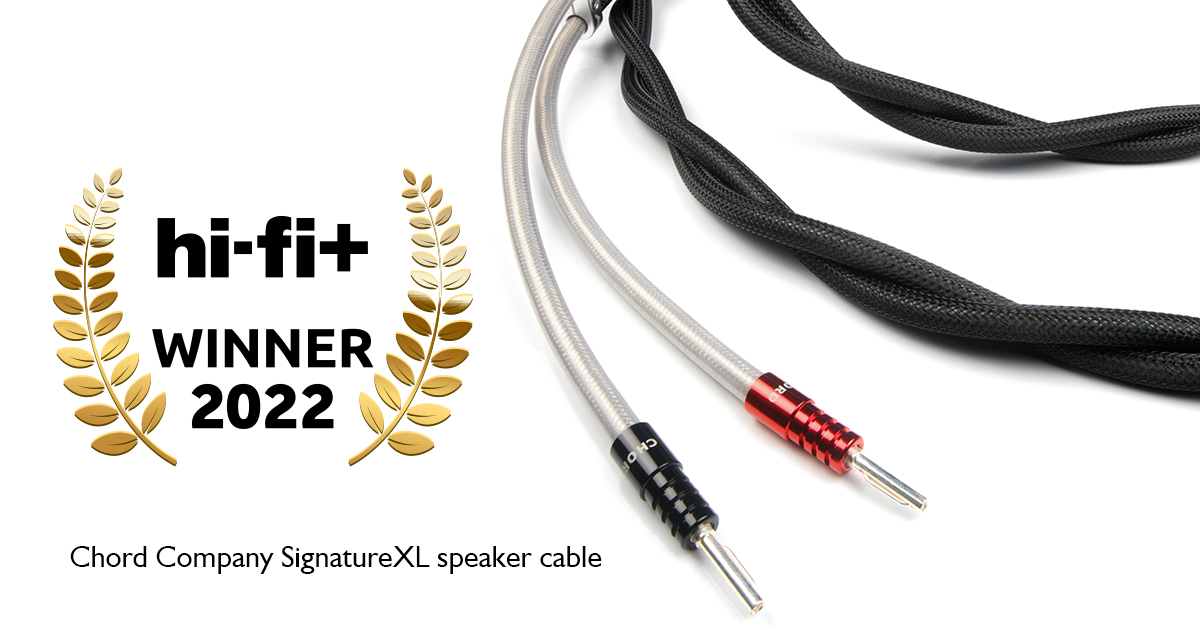 Award Received in December, 2022
Chord Company SignatureXL speaker cable wins loudspeaker cable category in the HI-FI+ Awards 2022.
'Tested in an all-Signature cable system, Alan was impressed by the consistency, brought about by a fine balance; "If it has a sonic intent, it's one of musical enjoyment rather than stark detailing. But it's so well balanced in terms of price, performance, partners and probably some other things that don't begin with the letter 'P'." 
Bass lines are taut and deep and extremely muscally infectious; the midrange is open sounding and articulate.'
HI-FI+
*100% High quality*
*fully tested*
*guarantee of quality*
*We send all item/s within 1-2 days*
If you would like a different combination of Ohmic spade connectors and banana plugs, or different cable lengths, please feel free to contact us.
Please have a look at our other items, Any questions please contact with us.Thanks for looking.